"You know… when we started as rafting outfitters, I didn't realize we were really just starting a floating catering company."
These were words of wisdom from a seasoned raft outfitter at the latest America Outdoors conference when discussing the challenges and complexities of feeding hundreds, or thousands, of clients each season.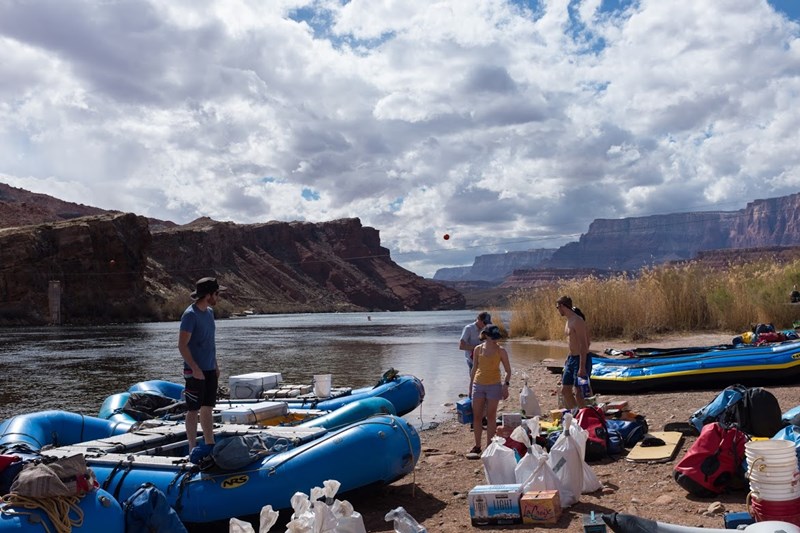 At Wholesum, we spend a lot of time talking about what to eat and how much to bring, but a guide's (read: caterer's) kitchen gear are just as important as the ingredients needing preparation. If you've floated, let alone guided, a multi-day river trip, you know just how important it can be to have the right tools in the kitchen.
We pulled on some resources from experts, outfitters and personal experience from the Wholesum team to pull together the list below of some of the best kitchen items on the market to build your dream camp kitchen. A lot of the suggestions below are geared toward float-based trips, but can easily apply to other outfitting operations where you're able to pack in larger kitchen items (e.g., horse packing or car camping):
FOOD PREP & STORAGE
Regardless of how you organize your food (by day, by ingredient type…etc.) you'll want to have well-organized and labelled containers that will keep everything dry, cool (if needed) and safe from animals. What you use might vary dramatically depending on trip length, temperatures, storage space available, and local wildlife, but here are some good options we collected from our outfitter clients:
Ammo Cans – The obvious staple in the rafting community, ammo cans offer nearly indestructible, animal-proof containers that are generally leak-proof and can contain any unwanted odors. If it's good enough to contain "groover" contents, it's good enough for your food.
Coolers & Dry Boxes – There are endless arguments about the best coolers and dryboxes to keep you food protected and temperature-controlled. As a Montana-run/made business, I've recently become a convert to Permafrost Coolers. The other consideration, of course, is which dryboxes and/or coolers fit nicely with your rig(s) for seating and storage. The folks over at Colorado Kayak Supply recommend the Downriver Kitchenbox.
Vacuum Sealing – Not everyone goes the route of vacuum sealing, but one recent Wholesum user who documented her process on the Grand Canyon argues that Vacuum sealers are the secret to keeping food fresh
COOKWARE
Cookware can vary widely by preference, space and weight-tolerance, but a good set of cookware can really make or break the meal:
Cast Iron – In addition to some standard steel pots/pans for everyday use, I've always been partial to using cast iron whenever possible. Cast Iron takes a bit more care to maintain, but it's more forgiving and spreads the heat more evenly then the lighter-weight counterparts.
Dutch Oven – No river trip is complete without a few gratuitous dutch oven meals. I've fallen in love with the Partner Steel Dutch Oven (the lid becomes a griddle!) but there's no need to shy away from traditional cast iron dutch oven if that's what you have access to. If you're looking for new ideas to include for dutch oven meals, check out this list of dutch oven meals that some of Wholesum's rafting outfitters are using.
Camp Stove – Though personally, we run small enough trips that a smaller stove is preferable, we absolutely loved working with Partner Steel's more heavy-duty options when we were on larger and longer trips. In chatting with Pete Wallstrom (Momentum River Expeditions), he suggested moving away from the heavy-duty stoves and going with something light but sturdy like the Woodland Power Stove from NRS.
TABLE SETUP
Table space is always in short supply when cooking, so getting the right table – (or more likely tables, plural!) – for your trips will be crucial.
Roll Table: On our personal trips, we rely exclusively on the tried-and-true Camptime roll tables. They're sturdy, easy to assemble, affordable and pack up small.
Down river standard table: A lot of experienced guides like those at Colorado Kayak or RiverBent will be quick to point you toward the Downriver standard table that functions as both a big kitchen table and a seat that will fasten to most standard rowing frames.
Framing out the kitchen:
A kitchen floor, like the Down River Kitchen Floor or CG gear's sand free matts are a must
Tarp / Sunshade – Staying out of the elements while cooking is important when conditions are less than ideal. There are plenty of good options out there. We've had a lot of luck with NRS's River Wing and Kelty's Noah's Tarp
CLEAN UP
Collapsible Buckets: If you attended the AO conference in Las Vegas, you might have seen those lucky few caring around their collapsible buckets from Jack's Plastic Welding. These collapsible buckets and ones like it are a godsend for toting large quantities of water for cleanup.
Drying Bag/Hammock: Having a space to dry wet dishes without them blowing away is imperative. The folks over at riverbent.com suggest this one.
Dishwashing Buckets – The 3 (or 4) bucket system has become the standard on most outfitted river trips these days: 1.) The slop bucket to get food scraps off. 2.) The hot & soapy bucket 3.) Rinse bucket and 4.) sanitation rinse (with bleach). Galvanized steel buckets will hold up to just about anything but if you're aiming to be more portable, these collapsible buckets do the trick as well
There are a lot of other considerations you'll want to think through before heading out in the field: cooking implements, hand washing stations, leftover and trash management and biodegradable soaps, but hopefully the list above is a good start to get ideas flowing.
Happy catering!